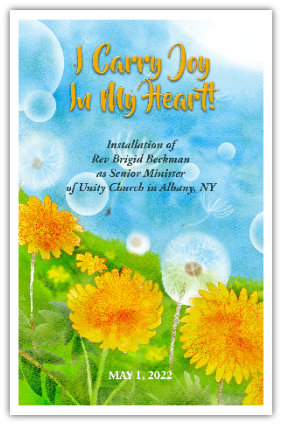 We were beyond blessed and thoroughly overjoyed to celebrate the official installation of Reverend Brigid Beckman as our Senior Minister at Unity of Albany on Sunday, May 1st at our 10:00 AM Sunday service!
And what a joyful celebration it was! Even the Daily Word chimed in with just the right message: "Joy! – I carry joy in my heart." Approximately 75 to 80 folks attended in person with another 40 or so watching live online. If you were unable to be present in person or online, we invite you to partake of the whole service on YouTube below (nearly 2 hours, but a wonderful 2 hours it is!) or to view some of the excerpts we will post here soon.
Rev. Sue Koehler-Arsenault, the Pastor of Annisquam Village Church in Gloucester, MA, and a dear friend of Rev. Brigid's, and Rev Jim Fuller (with Rev Kay Fuller), former Senior Minister of Unity of Albany, joined us for the ceremony, along with Brigid's family and other special guests, not the least of which (though perhaps the smallest) was Brigid's eight-month-old granddaughter Keeley.

Watch the entire service
EXCERPTS
Affirmation of Ministry by Rev. Sue Koehler-Arsenault
Blessing of Rev Brigid by Rev. Jim Fuller and community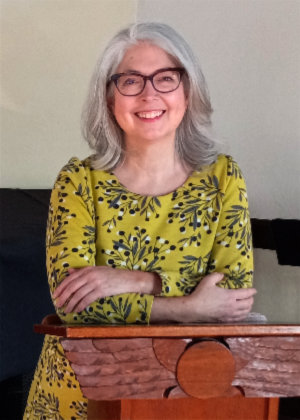 Reverend Brigid Beckman, who began her journey with Unity Church in Albany in late November, was ordained in 2016 through One Spirit Interfaith Learning Alliance, an international program based in NYC. A heart-centered minister and teacher, Brigid leads from relationships and embraces experiential interactions. For decades, Brigid has dedicated herself to helping others find their joy through creating opportunities for deep reflection on their own journeys and shared communal experiences. She has officiated close to 150 weddings, funerals, and baby blessings, has worked in both public and independent schools, and has led retreats and workshops for students, teachers, and people of all ages. A longtime Albany resident, Brigid returned to the area after living in Beverly, MA for four years where she was the Campus Minister and Director of Spiritual Life at an all-girls high school.