Worship Services at Unity Church
UPCOMING GUEST SPEAKERS & MUSICIANS  |  SPECIAL ANNUAL SERVICES
---
Maundy Thursday, April 18, 6:00 pm | Good Friday, April 19, 7:00 pm | Easter Sunday, April 21, 9:00 & 11:00 am | Easter Sunday OneSong kirtan service, 6:00 pm.  Click above for complete info.
---
Our worship services combine many different elements to feed one's soul and to unite us in Common-Unity.
Our services are live-streamed on our YouTube Channel. Hit the subscribe button there to be alerted when services go live. Our streams are then archived on the channel for later viewing.
Sunday Morning Services
With the exception of the summer months, we hold two morning services each Sunday at 9:00 and 11:00 am.
During the SUMMER (from Memorial Day weekend through Labor Day weekend inclusive), we offer one morning service at 10:00 am.
These morning services offer thought-provoking talks; beautiful, energetic music; peaceful, calming prayer; and a period of guided meditation. Inspiring messages are given by our Senior Minister, Rev. Crystal Muldrow or occasionally by a guest speaker.
Sunday school for children and teens is offered during the 11:00 am service each week.
Sunday Morning Prayer & Meditation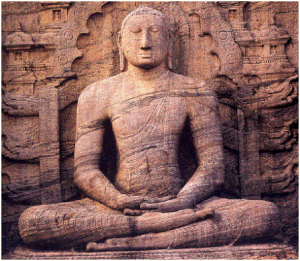 Between the 9:00 and 11:00 am services on Sunday morning we offer a time dedicated to the practice of meditation from 10:15 to 10:45 in the large upstairs class room, aka: Garden Room.  Space is limited to 10.  The practice begins promptly at 10:15, and ends accordingly, so that it does not interfere with either of the morning services. Sunday morning meditation is not held in the summer months (from Memorial Day weekend through Labor Day weekend) when we have just one morning service at 10:00 am.
The practice of meditation allows us to connect with the Divine in perfect union.  The practice can bring us to that place of calm and perfect peace that cultivates our soul.  We can then experience more clarity of thoughts and direction in our lives.  As Myrtle Fillmore, Unity's  co-founder, said in How to Let God Help You, "If you would know the perfect relation of all things in the universe, cultivate the soul. It is Intelligence Itself and will reveal to you, in the silence of meditation, glories and beauties of which you have not dreamed."
"OneSong" Sunday Evening Music Service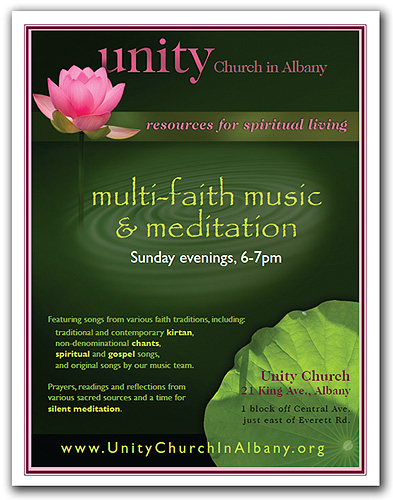 Then, on Sunday evenings, we hold our "OneSong" Multi-Faith Music and Meditation service at 6:00 pm. Patterned in part after the kirtan gatherings of the Hindu and Sikh traditions, these services incorporate music from various faith traditions including: traditional and contemporary kirtan chants, non-denominational chants, spiritual and gospel songs, and original songs by our music team. Services also include prayers, readings and reflections from various sacred sources and a time for guided meditation.
Each of the three Sunday services typically lasts about 1 hour.
Click for our OneSong Poster
Wednesday Meditation
Pray and meditate with Rev. Crystal Muldrow on the first and third Wednesdays of the month from 6:30-7:00 pm at Unity Church. This time of spoken prayer and silent meditation takes place in the church fellowship hall.
---
Memorial Service for Jeff Bowers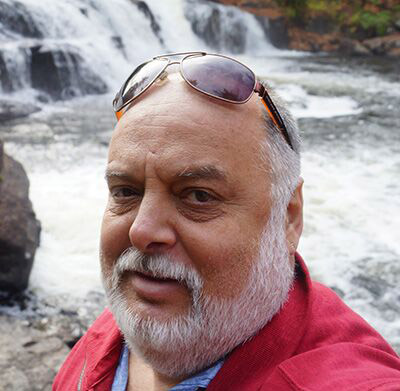 A Memorial / Celebration of Life for our dear friend and former attendee of Unity Church, Jeff Bowers, will be held on Thursday, May 8th, 6:00 – 7:00 PM at Unity Church, 21 King Street, Albany, NY.
For many years Jeff was Unity's resident photographer, taking pictures at many Unity gatherings and special events.  His best work was photographing the natural world. Some of his framed photo's will be present at the memorial.
Jeff also participated in cooking turkeys for the Thanksgiving and Christmas gatherings at Unity.
We will miss Jeff's lighthearted spirit and wish to celebrate this at the service.
---
Guest Speakers and Musicians
Sunday, April 28, 9:00 and 11:00 am services:
Guest musician, Julia Alsarraf
Singer-songwriter and multi-instrumentalist Julia Alsarraf has performed with groups in the Capital Region (Joy Adler & the Souls of Evolution, My Survival Kit, Walking X-Ray) and in her hometown of Houston, Texas, often working across genres.  You may have seen and heard her here at Unity with Joy and the Souls, or as a guest at our Sunday evening OneSong service. We are delighted to feature the incredibly talented Julia in a more central roll on this Sunday!
Sunday, May 5, 2019, 11:00 am service:
Linda Worster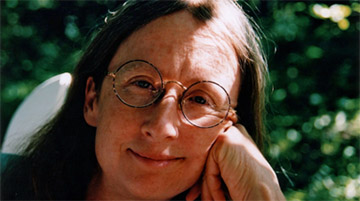 Linda Worster's music and lyrics proclaim the joy and explore the struggle of inner discovery. They are alive with the vitality of her dedication to seeking and discovering the magic and the mysteries of life. Linda's deep concern for the environment and for the choices we need to make to turn things around for future generations have inspired much of her writing. Her songs speak the truth of feelings that many people say they find hard to express. People say her songs touch their hearts and make them feel good. The jazz musician Paul Winter has said, "Linda speaks with the radiance of the heart spirit."
Linda will be offering a couple of her gorgeous original songs at the 11:00 am service, and then present a full concert following the service at 12:45 pm. Linda will offer the concert on a free-will, love-offering basis.
Sunday, May 19, 9:00 and 11:00 am services
Guest speaker: Dr. Dana Marrocco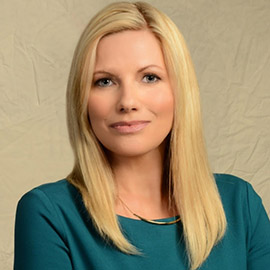 Talk: The Top Ten Lies We Tell Ourselves
Dr. Dana shares wisdom she has culled both from her professional background in educational psychology and from her studies of "A Course in Miracles" in a light-hearted yet profound discussion of the most common self-deceptions that keep people from living happy and creative lives.
Following the services, Dana will present Beyond Self-Deception: a Course in Miracles-inspired Workshop starting at 1:00 pm. MORE INFO
Dana Marrocco, PhD is an author, motivational speaker, spiritual singer/songwriter, and self-help stand-up comedian.  "Dr. Dana" received a PhD in Educational Psychology from Purdue University, specializing in theories of learning and motivation.
Dr. Dana has recently published articles in Elephant Journal and ​Miracles Magazine.  ​Before focusing exclusively on self-help, she was published in major professional journals in her field of Educational Psychology.  Her first book, "TOP TEN LIES WE TELL OURSELVES ~ and How to Stop Believing Them," was released in 2018 by Ixia Press/Dover.  Her message is highly influenced by the metaphysical masterpiece A Course in Miracles.
---
 —o0o—
Special Services
During the course of the year we offer a few special services to enrich your life and spiritual journey.
Christmas Eve Candlelight Service – 5:30 pm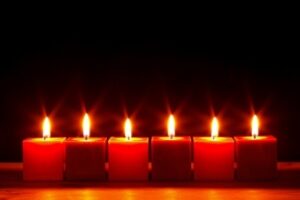 Rekindle the Christ light in your heart this Christmas.  Join Reverend Crystal and our Unity musicians as we sing and celebrate the birth of Christ Consciousness into our world.  We have scheduled our service at 5:30 PM so that you can participate and still have the evening free for family and friends.  Join us as we listen to the Christmas story, share prayers, songs, and light our Christmas candles together.  What a wonderful gift to give the Christ child in you!
The Burning Bowl Service – New Year's Eve, 5:30 pm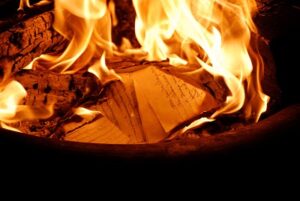 Clear out the closets of your mind and make room for the life your soul desires.  Open your imagination and heart to the blessings God is offering you.  This is our traditional ritual of releasing to the burning bowl those things that no longer serve us and writing our letter to God claiming our vision of good for the coming year.
We will sing, pray and step forward into a New Year filled with wonderful possibilities for all.
White Stone Ceremony – First Sunday of January, morning services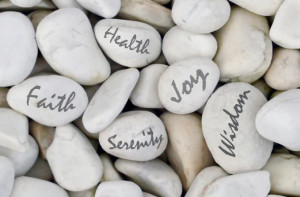 This day we set our intentions (similar to resolutions) for the new year.  Rather than focusing on what we will do, we focus on who we are called to be in order to birth the emerging vision of our highest essence.  During the service, we connect with our divine essence—whatever we call God, as we are invited to ask for guidance on what our word or words will be for the upcoming year.  These words will represent our highest intention and may be in the form of a new name that will represent this emerging spiritual identity that will guide us through the new year as our high intentions unfold.  That name is then written upon the white stone that we keep throughout the year as a reminder of our intention.
Maundy Thursday Foot Washing and Communion-in-Prayer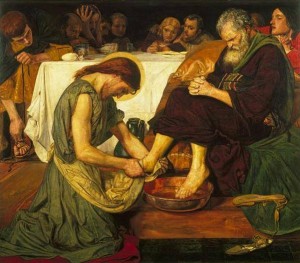 Join us for a simple service with a big impact.
The service focuses on the metaphysical/symbolic meaning of Maundy Thursday.
Everyone is welcome to participate in foot washing, or hand washing if you prefer. Communion-in-Prayer is done inwardly with spirit and prayer rather than wine and bread.  Guests are always welcome.
Usually held at 6:00 pm on the Thursday before Easter.
Passover Seder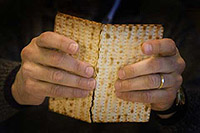 Our Seder is a covered dish event with each person bringing a specific part of the Passover meal.  Please sign up in advance at the church to reserve your place and coordinate what part of the meal you will provide.  This is a non-alcoholic and vegetarian Seder.