Worship Services at Unity Church 
UPCOMING GUEST SPEAKERS & MUSICIANS  |  SPECIAL ANNUAL SERVICES
Our worship services combine many different elements to feed one's soul and to unite us in Common-Unity.
Sunday Morning Services
With the exception of the summer months, we hold two morning services each Sunday at 9:00 and 11:00 am.
During the SUMMER (from Memorial Day weekend through Labor Day weekend inclusive), we offer one morning service at 10:00 am.
NOTE: Our 2017 Summer Schedule begins on Sunday, May 28 and concludes on Sunday, September 3.
These morning services offer thought-provoking talks; beautiful, energetic music; peaceful, calming prayer; and a period of guided meditation. Inspiring messages are given by our Senior Minister, Rev. Crystal Muldrow or occasionally by a guest speaker.
Sunday school for children and teens is offered during the 11:00 am service each week.
Sunday Morning Prayer & Meditation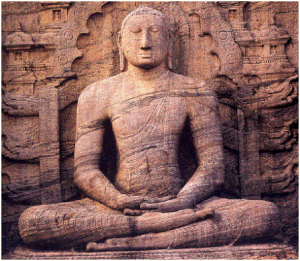 NOTE: Sunday morning Meditation is on hiatus for the summer.
Between the 9:00 and 11:00 am services on Sunday morning we offer a time dedicated to the practice of meditation.   Jerry Petell and friends lead the practice from 10:15 to 10:45 in the large upstairs class room, aka: Garden Room.  Space is limited to 10.  The practice begins promptly at 10:15, and ends accordingly, so that it does not interfere with either of the morning services.
The practice of meditation allows us to connect with the Divine in perfect union.  The practice can bring us to that place of calm and perfect peace that cultivates our soul.  We can then experience more clarity of thoughts and direction in our lives.  As Myrtle Fillmore, Unity's  co-founder, said in How to Let God Help You, "If you would know the perfect relation of all things in the universe, cultivate the soul. It is Intelligence Itself and will reveal to you, in the silence of meditation, glories and beauties of which you have not dreamed."
"OneSong" Sunday Evening Music Service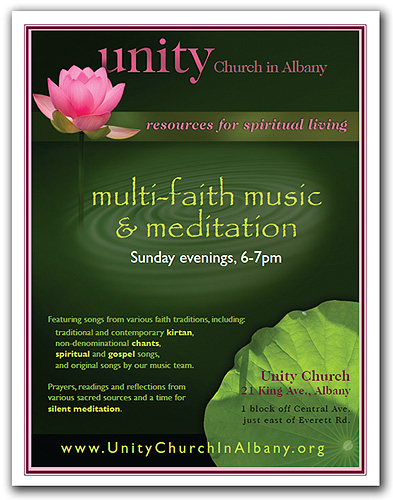 Then, on Sunday evenings, we hold our "OneSong" Multi-Faith Music and Meditation service at 6:00 pm. Patterned in part after the kirtan gatherings of the Hindu and Sikh traditions, these services incorporate music from various faith traditions including: traditional and contemporary kirtan chants, non-denominational chants, spiritual and gospel songs, and original songs by our music team. Services also include prayers, readings and reflections from various sacred sources and a time for guided meditation.
Each of the three Sunday services typically lasts about 1 hour.
Click for our OneSong Poster
GUEST SPEAKERS & MUSICIANS

Sunday, October 15 – Guest Musicians One Love
6:00 pm Onesong Service
ONE LOVE offers Global Ecstatic Chant–a unique blend of Hindu Kirtan and other devotional chants from across the spectrum of spiritual traditions and cultures–
The Ithaca, NY-based band features Kripalu Yoga teacher and interfaith minister Jyoti (Jody Kessler) on guitar and vocals; Keyboardist extroadinaire Paul Kimball on keyboard on harmonium; singing goddess Angie Beeler on vocals and percussion; and multi-instrumental wizard Joe Smellow on percussion and an array of flutes, harmonica, pan pipes, didgeridoo, and more.  ONE LOVE performances are highly interactive, educational, and transformational.
One Love was chosen in 2014 as the most outstanding emerging band by BhaktiFest, the most popular yoga and chant festival in the US.
We invite you to join us for a musical celebration of global prayer!
This event is free. Free will love offerings appreciated.
Sunday, November 5, 6:00 pm OneSong Service

Guest Musicians: Joy Adler & the Souls of Evolution

Singer, songwriter and sound healer Joy Adler will bring her band, The Souls of Evolution, to Unity Church in Albany for an evening of Music for Healing including kirtan chant and "Spirit through sound" on Sunday, November 5 at 6:00 pm. This will be a special edition of Unity's weekly "OneSong" Multi-Faith Music Service.
Joy Adler, is a Sound Healer, Holistic Counselor, and Educator. She is the Department Head of the Advanced Studies Program at The Barbara Brennan School of Healing, as well as the Mentor of the Wellness team and Student Advisor at The Center for Natural Wellness, Albany.
With the Souls of Evolution, Joy has brought together a group of exceptionally intuitive master musicians including, Mick Murdick, Julia Alsarraf, Brian Melick. and musical director, Elizabeth Woodbury Kasius. Together they weave a musical template of healing potentiality, and welcome special guest musicians, Pete Furlong and Roger Mock at Unity.
"Joy is gifted with the ability to channel blazing light and power through her voice that touches the root of your soul and calls it forth".  -Patricia White Buffalo
Admission to this event is free. Love offerings are gratefully accepted.
---
 —o0o—
Special Services
During the course of the year we offer a few special services to enrich your life and spiritual journey.
Christmas Eve Candlelight Service – 5:30 pm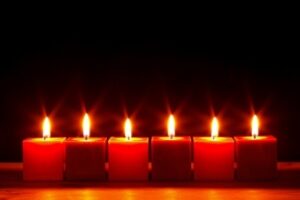 Rekindle the Christ light in your heart this Christmas.  Join Reverend Crystal and our Unity musicians as we sing and celebrate the birth of Christ Consciousness into our world.  We have scheduled our service at 5:30 PM so that you can participate and still have the evening free for family and friends.  Join us as we listen to the Christmas story, share prayers, songs, and light our Christmas candles together.  What a wonderful gift to give the Christ child in you!
The Burning Bowl Service – New Year's Eve, 5:30 pm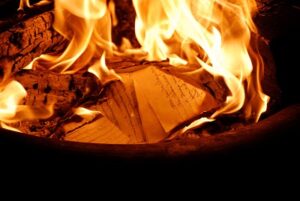 Clear out the closets of your mind and make room for the life your soul desires.  Open your imagination and heart to the blessings God is offering you.  This is our traditional ritual of releasing to the burning bowl those things that no longer serve us and writing our letter to God claiming our vision of good for the coming year.
We will sing, pray and step forward into a New Year filled with wonderful possibilities for all.
White Stone Ceremony – First Sunday of January, morning services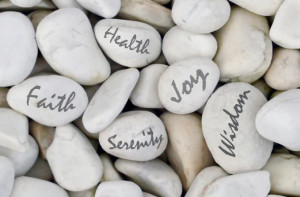 This day we set our intentions (similar to resolutions) for the new year.  Rather than focusing on what we will do, we focus on who we are called to be in order to birth the emerging vision of our highest essence.  During the service, we connect with our divine essence—whatever we call God, as we are invited to ask for guidance on what our word or words will be for the upcoming year.  These words will represent our highest intention and may be in the form of a new name that will represent this emerging spiritual identity that will guide us through the new year as our high intentions unfold.  That name is then written upon the white stone that we keep throughout the year as a reminder of our intention.
Maundy Thursday Foot Washing and Communion-in-Prayer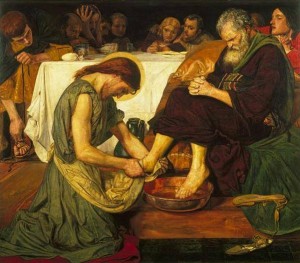 Join us for a simple service with a big impact.
The service focuses on the metaphysical/symbolic meaning of Maundy Thursday.
Everyone is welcome to participate in foot washing, or hand washing if you prefer. Communion-in-Prayer is done inwardly with spirit and prayer rather than wine and bread.  Guests are always welcome.
Usually held at 7:00 pm on the Thursday before Easter.
Passover Seder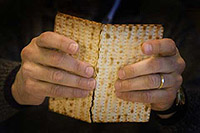 In 2014 we held our first Passover Seder on the Friday of Passover week in April.  We are likely to make this an annual tradition.  Our Seder is a covered dish event with each person bringing a specific part of the Passover meal.  Please sign up in advance at the church to reserve your place and coordinate what part of the meal you will provide.  This is a non-alcoholic and vegetarian Seder.