Rev. Crystal E. Muldrow (Rev. Boepbo Sunya Dharma),
Senior Minister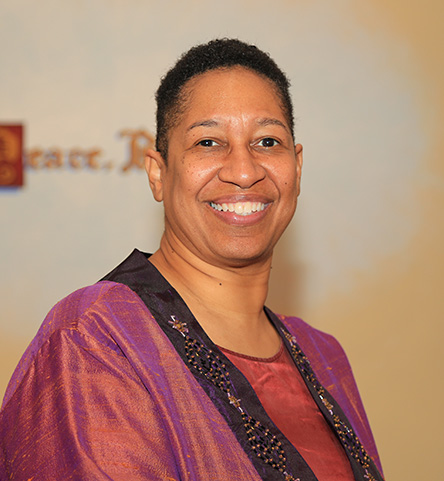 The first time I stepped into a Unity Ministry as an adult, I knew I was home. It was Easter Sunday 1998, sitting on the stairs of a packed sanctuary of over 1400 people, that I was spiritually cleansed by messages of God's unconditional love and how I was created and loved as I am. I had not been looking for a church community. I was anti-church yet spiritual. If it hadn't been for friends I admire urging me to try out their church, I would not have gone. My experience that Easter changed my life and my viewpoint of what a loving, inspirational, compassionate and thriving spiritual community is. I wasn't looking, yet I found home. I have been committed to my spiritual growth and aiding in others spiritual growth ever since.
It was at this church, Renaissance Unity (formally known as Church of Today), that I began to listen to the ministerial calling that I had pushed aside since I was a teenager. After taking most of the Spiritual Education and Enrichment (SEE) classes at Renaissance Unity, I enrolled in the Unity Urban Ministerial School in Detroit, MI. After graduating from the Urban School in 2005, I moved to Unity Village, MO. to complete my final year of seminary school at Unity Institute.
In June of 2006, I graduated from Unity Institute and was ordained a minister by Unity Worldwide Ministries. Upon ordination, and with the strong desire to teach Unity principles to young adults, I created the internet ministry, Unity Community for Spiritual Unfoldment (UCSU). As the founding minister of (UCSU), I gained extensive experience about how to create all the varied components of a ministry. UCSU dissolved in 2011, While working with UCSU, I enjoyed the opportunity it granted me to be a regular guest speaker at churches in Kansas and Missouri.
My involvement at UCSU prepared me for my position as the interim minister, of Unity Church of Peace: Practical Spirituality (UCP) in Jefferson City, Missouri in 2011 and 2014 -15. After many years of guest speaking and being an interim minister, I realized that it was time for me to search for a ministry where I could provide spiritual leadership for congregants in ways that were not always possible with an Internet ministry nor as an interim minister. I found that ministry and on January 1, 2016 I became the Senior Minister of this wonderful church, Unity Church in Albany.
In addition to being a Unity minister, I am twice ordained as a Zen Buddhist monk: bodhisattva and bhiksuni, and have served as a dharma teacher for Dharmakaya Buddhist Association in Kansas City, MO.
Rev. Roger Mock, Music Director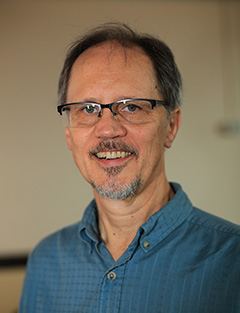 Roger has a lifetime of experience in church music ministry, starting back in high school days where he helped to form a contemporary 'folk' choir in his local Catholic parish in Little Falls, NY. His college years were spent in the Capital District at Siena College and the College of St. Rose (from which he graduated with an Art Education degree and where he later pursued musical studies). During college he continued his music ministry at St. Vincent de Paul Church in Albany eventually becoming music director and serving that parish for two decades.
Though raised in the Roman Catholic Church (and still having a great love for that religious tradition), Roger's own spirituality has long been rooted in a wider understanding and experience of the Divine – that it finds expression in the full breadth of humanity's religious traditions.
The Unity movement has been a natural fit for him and, since about 2004, Roger has been serving as a minister of music here at Unity of Albany. He brings with him significant skills as a song leader, worship leader and instrumentalist (guitar, hammered dulcimer, mandolin) as well as an ability to draw a group of musicians together as a unified, harmonious channel for spiritual ministry.
In June, 2015, Roger completed a year of studies at All Faiths Seminary in New York City and was ordained as an interfaith minister.
Jane Bloom, Youth & Family Ministry
It is with great sadness that we report that our dear Jane Bloom passed away on Sunday, June 24, 2018.
unityalbany.org/2018/06/29/jane-bloom-we-will-remember-you/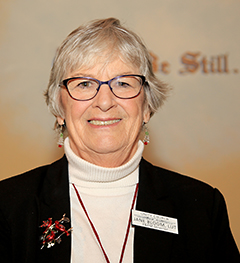 Jane is a Licensed Unity Minister and heads up our youth program. She coordinates Sunday morning youth education, overseeing facilitators and establishing a living curriculum. Under Jane's leadership we have a caring, compassionate, loving program that nurtures the Christ presence in our children and embraces individuality through instruction and activities in Unity Principles.
Our vision is to empower children and youth to use their spiritual wisdom to fulfill their soul's purpose; to empower parents to see themselves as the primary spiritual educators of their children and youth; and to empower facilitators to see education as a process, through which they effectively support the unfolding of the child's spiritual nature and model the living of the spiritual principles.
Board of Trustees
Paul Frament, Co-President – Hospitality
Karin Reinhold, Vice-President – Prosperity/Sunday Worship 
Peggy Kaufmann, Secretary – Special Events
Cheri Warren, Treasurer – Inreach/Outreach
Elaine Lasda, Trustee– Spiritual Education
Sam House, Trustee – Building & Grounds
Dave Ferrill, Alternate
Paul Frament, President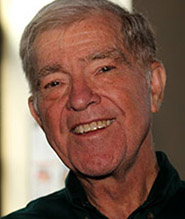 Paul has been attending Unity for 13 years and became a member in 2008. He works as a computer software consultant. Paul enjoys outdoor activities, including hiking, skiing, biking and he also coaches hockey. As a Unity volunteer, Paul has weeded, watered and trimmed our garden. He has previously been an alternate member of Unity's Board of Directors, attending meetings and working on financial matters.
As a trustee, Paul believes he will be aware of the needs of all Unity members and be responsible for the long-term health of the Unity community. His priorities would be ensuring that services are well attended, membership is high, members are enthusiastic about our community, and our finances are in good shape.
Karin Reinhold, Vice-President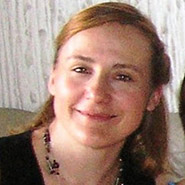 Karin has been attending Unity since 2013 and became a member in 2014. She has been a professor of mathematics at SUNY Albany for over 20 years. At the age of 19, in her native Argentina, Karin did a yoga teacher training. She has also studied other spiritual and healing approaches including Kabbalah and energy healing. She became a student of A Course in Miracles in 2013 and continues to attend and co-facilitate our Sunday ACIM group. She is also a certified Heart Intelligence Life Coach, certified Art of Feminine Presence Coach and was trained in the Heart Circle Method.
As a volunteer at Unity, Karin has mostly been involved with Hospitality and has recently begun to be a teller. She also held "Heart Circles" before evening services were added in the church. Karin has participated in the 4T program and Prosperity Plus courses, which have helped her be in the flow of abundance and give financially to the church.
Cheri Warren, Treasurer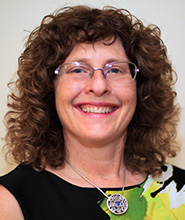 Cheri has attended Unity for 4 years and has been a member for about 2 years.  She strongly believes you should do service that lights up your heart. With her love of technology, photography, and cooking, she has been able to put her skills into use.  She has worked on our congregant directory, the Minister Search and Find Team, and has been a consistent operator of the sound and light board for the past year, helping to bring in new technology.  Cheri has helped publicize special events on social media, and worked with a tech team to bring about live streaming of our 3 Sunday services on YouTube video. Cheri has been spiritually filled as an active member of Keepers of the Flame and Unity's Healing Racism group.  She would love to see our church community continue to deepen as we explore Truth through Unity teachings and other Wisdom traditions.  She is grateful for this very special community and feels called to continue to help out in whatever way Spirit directs.
Cheri is a semi-retired electrical engineer with 30 years' service in the industry.  She serves as Chairman of the Board for IEEE Global Spec in Albany, and as a Board Director for CMMI in Pittsburg.
Peggy Kaufmann, Secretary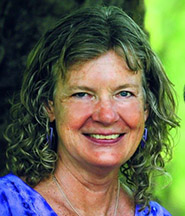 Peggy has been coming to Unity for more than 12 years, and became a member in 2014.  She began ushering soon after that, and upon retiring a year and a half ago, was able to become more involved with Unity.  Peggy took charge of the Christmas family adoption; she took the lead in making contact with FOCUS to pursue membership with them; she began volunteering in the office once a week; and started the Unity Social Action Committee.  Peggy also participates in the Building the Beloved Community group to heal racism. She collects donations for the US Committee for Refugees and Immigrants (where she also volunteers once a week), and is now helping to organize the ushers.
Peggy's focus in life, with the support of her loving wife and partner (who shares her passion), is to be of service, at Unity, and in the community.  In these difficult times, she finds it very important to work for positive change.
Sam House, Trustee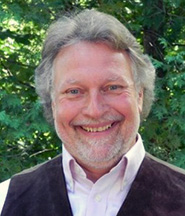 Sam has attended Unity for 16 years and has been a member for about 14 years. He is an executive coach and leadership development consultant, working in locations throughout the world. For 17 years, he worked as a social worker and psychotherapist. He is able to bring together diverse points of view and establish alignment in a life affirming and inspirational way. Raised as a doctor-going Christian Scientist, Sam has explored and continues to explore numerous spiritual paths, often finding alignment with Unity teachings. His goal is to live a spirit-filled, God-centered life; to be a "hollow bone" for spirit to work through him.
As a volunteer at Unity, he has been a consistent operator of the sound and light board for the past 4 years, ushered when needed for the past 12 years, assisted in church clean up days, and helped with clean up after special events. He has participated in The Quest program and the advanced Quest program. He would love to see our church have a larger family and child education focus. He believes that it is time to tithe his time and talent to the church that has fed him over the years in so many ways.
Elaine Lasda, Trustee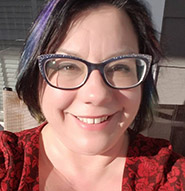 Elaine has attended Unity since 2012 and became a member in 2014. Elaine works as an academic librarian at the University at Albany. As a volunteer at Unity Church, Elaine was deeply involved with Jim and Kay Fuller's bon voyage celebration, hosted the Thanksgiving at Unity event, and worked on the Christmas party. She organized and hosted"Not Your Grandmother's Listening Party: Spirituality through Hard Rock and Heavy Metal Music".
Through her many skills, she offers a steadfast commitment to honesty and transparency and has a desire to serve this community, which has been such a blessing to her, in a deeper capacity. She believes being a trustee will enable her to receive greater conscious contact with God through service to others and a deeper connection to Unity members and attendees.
Dave Ferrill, Alternate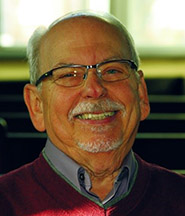 Dave has been a member of Unity in Albany for over 20 years, first attending when services were held on Madison Avenue.  He previously served on the Unity Board of Trustees and was President of the Board during the transition time between ministers, culminating in the hiring of Jim Fuller.  Holding the light during unsettled times was his primary focus. Dave has also been on the board of four other non-profits, both as a trustee and as an officer.
Unity is his spiritual home, always there as sustenance for his journey.  Over the years, Dave has served in several capacities at Unity.  Currently he is serving, as he has for many years, as a reader on the Daily Word recording team.  More recently Dave has been serving on the Prayer team, becoming a prayer chaplain in 2017.
Dave is a retired engineering manager with a post-retirement career as a substitute school teacher and personal fitness trainer.  He enjoys cycling, yoga, history, and travel. With his bike, he has participated in many fund-raising athletic events for health-related organizations, particularly the MS Society, and the Dana Farber Cancer Institute.