Sunday Services
Go to the Services Page for all the info on our weekly worship services.
A Course in Miracles Study Groups


Held on Zoom and/or in person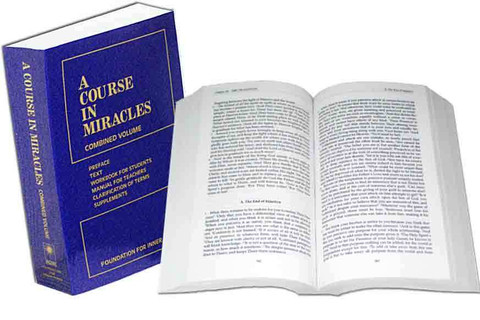 Perhaps you have already tried reading A Course in Miracles and found it difficult to make it through the text and 365 daily lessons? The Course is challenging, and it is a powerful tool for spiritual growth. And, the metaphysics of the Course are highly compatible with Unity teachings. While the Course is designed for individual study it is helpful to have a "support group" to share your questions, discoveries, and to journey with. Bring your book, or you can view the text for free on a smartphone or tablet.
A Course in Miracles Study Group #1 –  This group, originally begun in the home of our former Pastor Rev. Jim Fuller currently meets on the 2nd and 4th Mondays at 7:00 pm on Zoom.
Email roger@unityalbany.org for info and link.
NEW! A Course in Miracles Study Group #2 –  In Person – Meeting weekly on Friday in the Unity Church Library from 2:00 to 3:30 pm.
A Course in Miracles Study Group #3 with John – Our congregant, Rev. John Frederick, is currently leading a weekly, informal group on Zoom from his residence in Paris, France on the teachings of A Course in Miracles.
Wednesdays, 12:00 Noon, New York time (6:00 pm Paris Time).
New time, beginning August 16, 2023: Wednesdays, 11:00 am, New York time (5:00 pm Paris Time).
Email John for more info and link: janthony10@yahoo.com
You can find information about A Course in Miracles study groups across the United States, and beyond, at www.miraclecenter.org.
These groups are always open to new students as well as those who have already been working with these teachings.
---
Social Justice Circle
This group, which restarted in March, 2022, generally meets on the second Sunday of the month following the 10:00 am service (11:30-ish), in person (Garden Room) or on Zoom, to find ways to be a force for positive change in our community. Contact Tim Sigrist for information.
When the Justice Circle gathers, we might focus on any of these things:
Find out what we are doing already individually.
Do we want a deeper understanding/more skills about topics of interest?
How might we start listening to the local community to uncover needs and roadblocks AND bring back issues to explore or tackle?
Create a Vision Statement from this, that is mutually agreeable
---
Fall and/or Spring Retreats
SAVE the DATE! Spring 2023 retreat at Unity! Friday April 28 and Saturday April 29.  More Info here.
---
Open Mic Night Coffeehouse

IS BACK!




January's event was a rousing success! Each seasonally scheduled open mic night is filled with music, poetry, humor and more.  Sign up to share your talents between 6-6:45 or just come at 7:00 and enjoy the show.  Admission is only $5 and includes refreshments. Check our Current Events Calendar for the next opportunity.