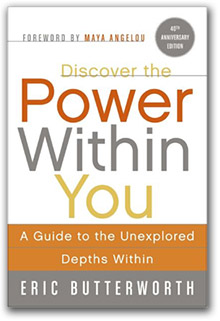 Beginning Tuesday, November 27  we begin reading and discussing Eric Butterworth's Discover the Power Within You.
In Eric Butterworth's inspiring tour de force, the author shares the greatest discovery of all time: the ability to see the divine within us all. Jesus saw this divine dimension in every human being, and Butterworth reveals this hidden and untapped resource to be a source of limitless abundance. Exploring this "depth potential," Butterworth outlines ways in which we can release the power locked within us for better health, greater confidence, increased success, and inspired openness to let our "light shine" forth for others.
Join us as we share Eric Butterworth's wisdom in our Tuesday study group through the end of the year and into early 2019!