An evening of blissful call-and-response chanting with Lee Mirabai Harrington, Owen Landis and Ezra Landis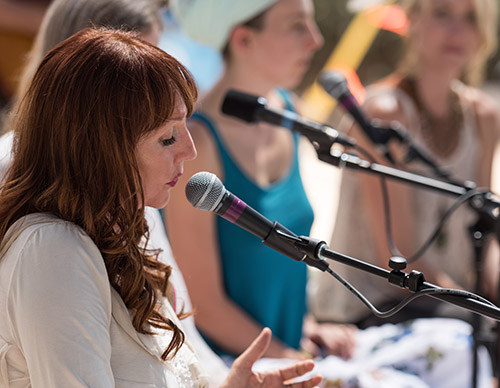 Chanting mantras is an effective way to "tame" the mind and connect us with Divine Consciousness and healing energies. In call-and-response kirtan, we'll sing the mantras together, generating a profound group energy which helps remove obstacles, purify negative tendencies, and promote a state of peace, well-being, compassion, acceptance and healing. No singing experience necessary; all ages welcome.
Lee (Mirabai) Harrington
Hailed as "one of the best-kept secrets in the chant world," Lee (Mirabai) Harrington leads kirtan chants from Buddhist, Hindu, and other traditions. With a musical background in classical Indian vocals. gospel, opera and sound healing, Lee loves to lead authentic, high-spirited, and deeply healing kirtans, combining the metta and wisdom energies of Buddhist mantras with the heart-opening euphoria of the devotional Bhakti tradition.
Lee has sung devotional music for  His Holiness the 17th Karmapa at Madison Square Garden and for Amma at Amritapuri Ashram in India. She has been featured at such kirtan festivals as Bhaktifest, Shaktifest, Lovelight, and Ahimsa as well as at Omega Institute, Ananda Ashram, Karma Triyana Dharmachakra monastery, Tibet House, Integral Yoga Institute, Won Dharma Center, Kashi Ashram, Sivananda Ashram Bahamas, Yogaville, the Meher Center, and countless yoga studios, Unity Churches and healing centers.
For Lee, leading kirtan is not a performance, but rather a sacred, communal offering in which we join our voices and hearts in deepest, devotional prayer. Our voices are instruments of healing; Lee believes we all have the capacity to heal ourselves—and others—through the practice of kirtan and mantra. Lee's practice of Tibetan medical mantras also adds a level of profound healing for those who attend her kirtans and workshops.
Her critically-acclaimed debut album BEYOND THE BEYOND (Spirit Voyage: 2016) reached the top ten on iTunes international world music charts and was featured on multiple "best of" conscious music lists. She is currently working on a new album of Buddhist mantra music with producer Ben Leinbach.
She is based in Woodstock, NY, where she offers kirtan, leads meditation workshops, writes books, teaches creative writing and sings in choirs. She has been a Buddhist practitioner in the Karma Kagyu lineage for decades and is also a long time member of Unity Church.
Sunday, November 11, 6:00 pm
OneSong Service